The Client
Champions is a personal development initiative run in association with the Lancashire Violence Reduction Network that is accessible to residents of Lancashire between the ages of 10 and 25. Since its debut in 2020, the Champions programme has helped more than 1,355 young people. The group collaborates closely with the local football community trusts and their larger networks. The Champions programme is a component of their larger efforts to investigate and treat the fundamental causes of serious violence in Lancashire.
Lancashire Violence Reduction Network (LVRN) was rebranding its Champions programme and was looking for a website to be built to support the launch of the new brand.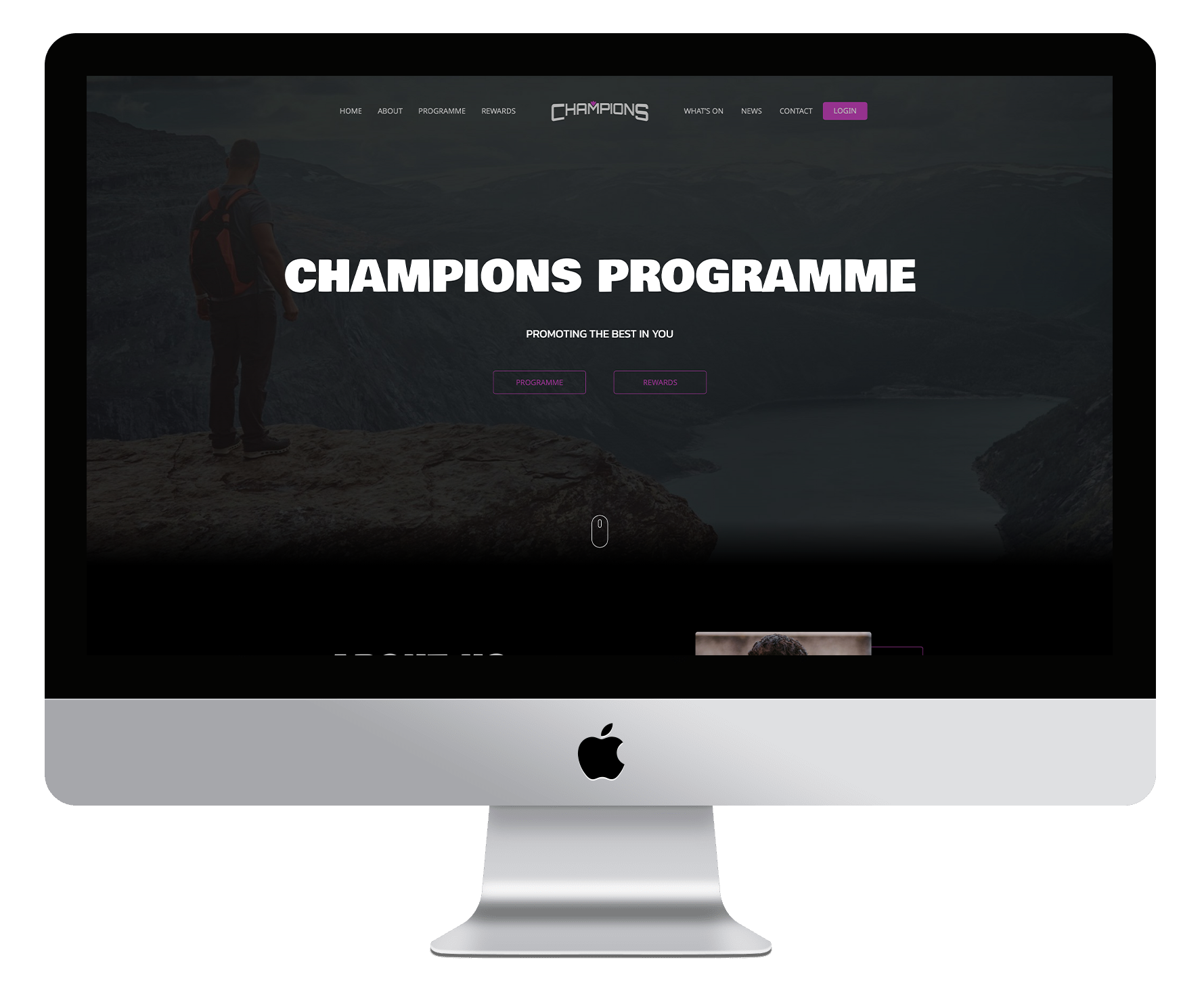 Project Overview
The website brief was quite specific with its requirements as the website is a membership site. We are briefed to craft a user-centric website that caters to the Champions programme's unique requirements:
Client-focused design and language
Members page with secure logins
The programme consists of three phases, 'Team talk. Match. Full time.' There was a need for a page that explained the programme and structure in an engaging way.
Explanation of the rewards programme (clients gain 'points' when they complete an outcome). The mentors will need to be able to have access so that when an outcome is completed, they can add these points to the member's page so that when they log in they can see their progress.
One page for more formal language for partners, etc. to be able to read what the programme is about and what LVRN have achieved to date.
Meet the team/mentors page including biographies for around 18 people.
Contact Us page with a referral form.
Directory and 'Whats On' page, e.g. local boxing clubs, swimming groups, etc.
Blog/news section
The website needs to be built in a way that LVRN retains access and can update themselves for instance if they wanted to add a new blog/news article.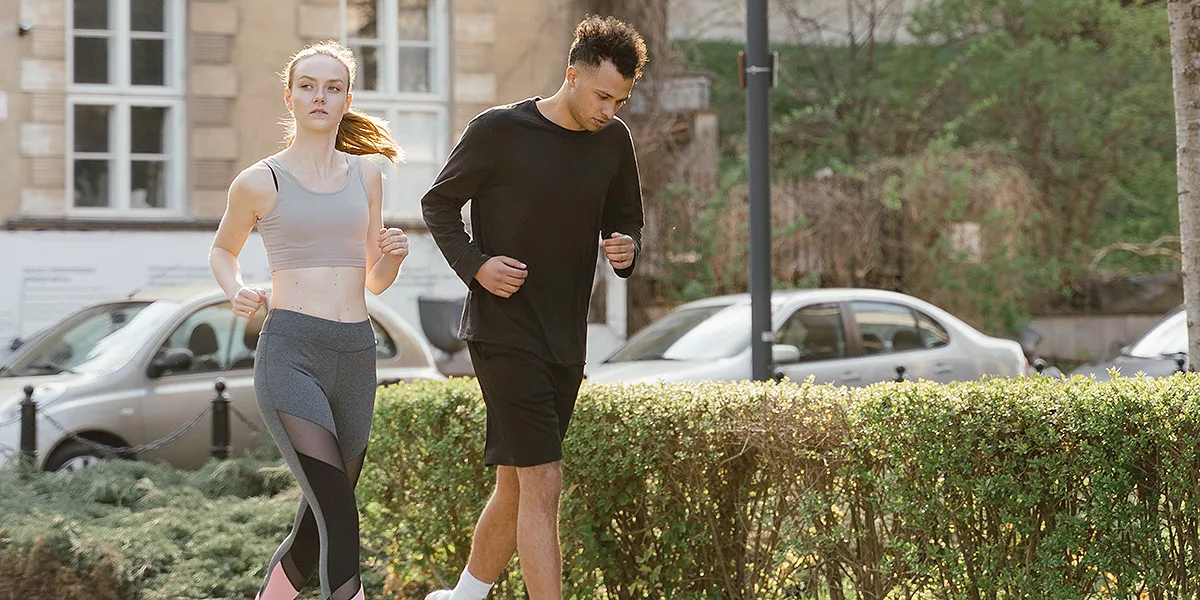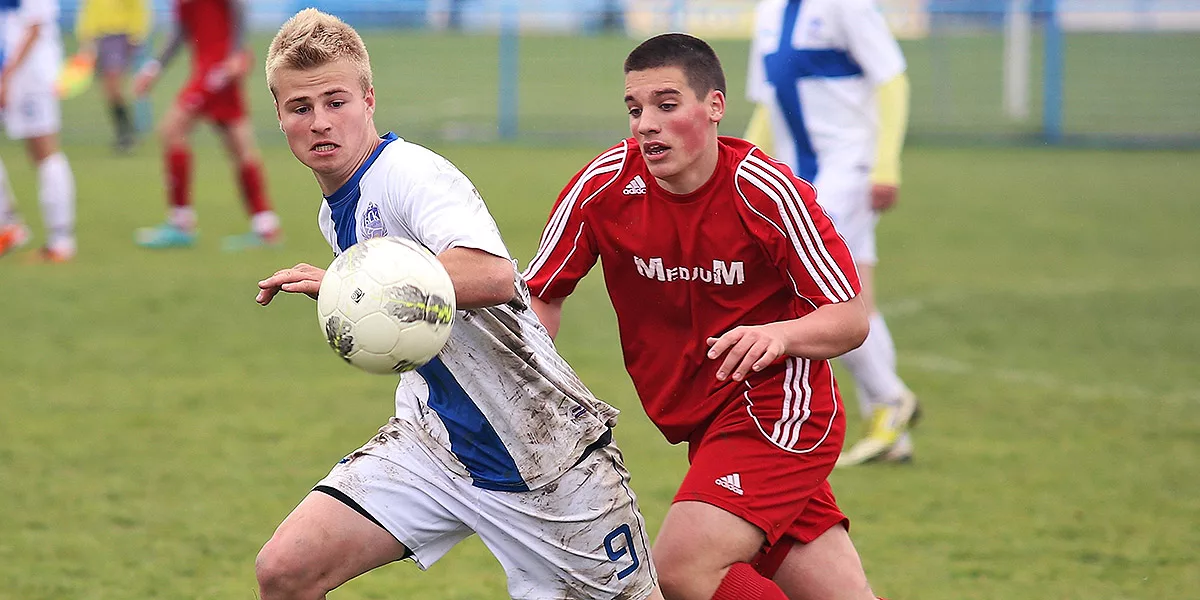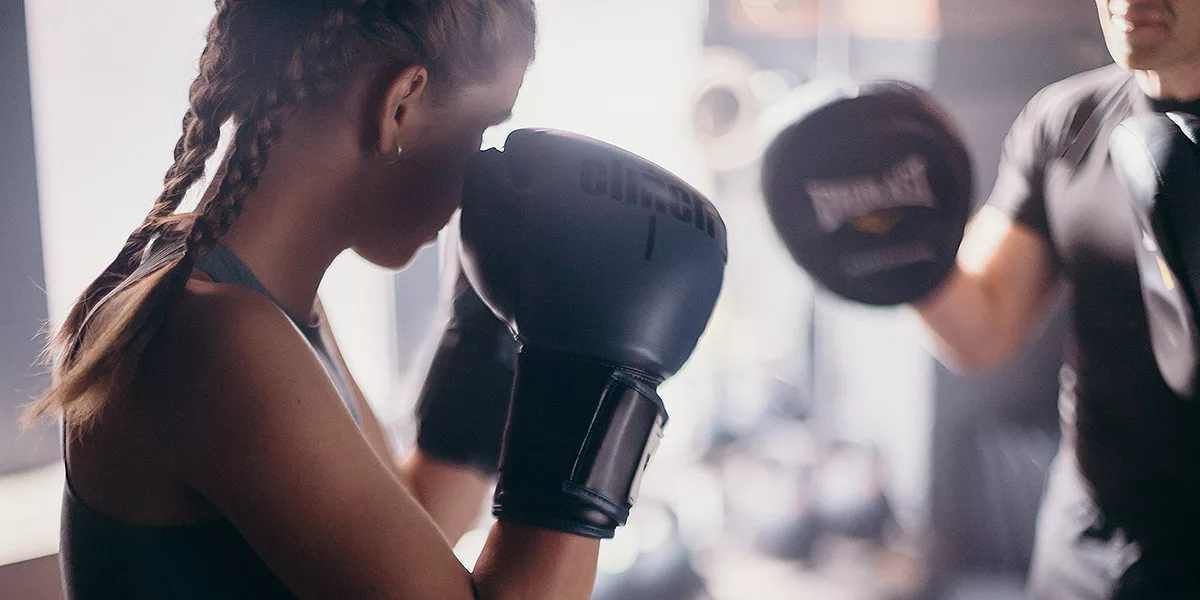 Our solution
The primary focus of the solution that we delivered to the client was for the entire website to be built on a user-friendly content management system, empowering the client to retain access and effortlessly update content, whether it's publishing new articles or modifying existing information. We found that WordPress partnered with Buddypress enabled us to waive the below features into the final website.
Engaging Programme Overview: We created a dedicated page for the Champions programme, presenting its three phases – 'team talk,' 'match,' and 'full time' – in a compelling manner. The design combined vibrant visuals with concise yet impactful language, ensuring the programme's mission resonates with the targeted youth audience.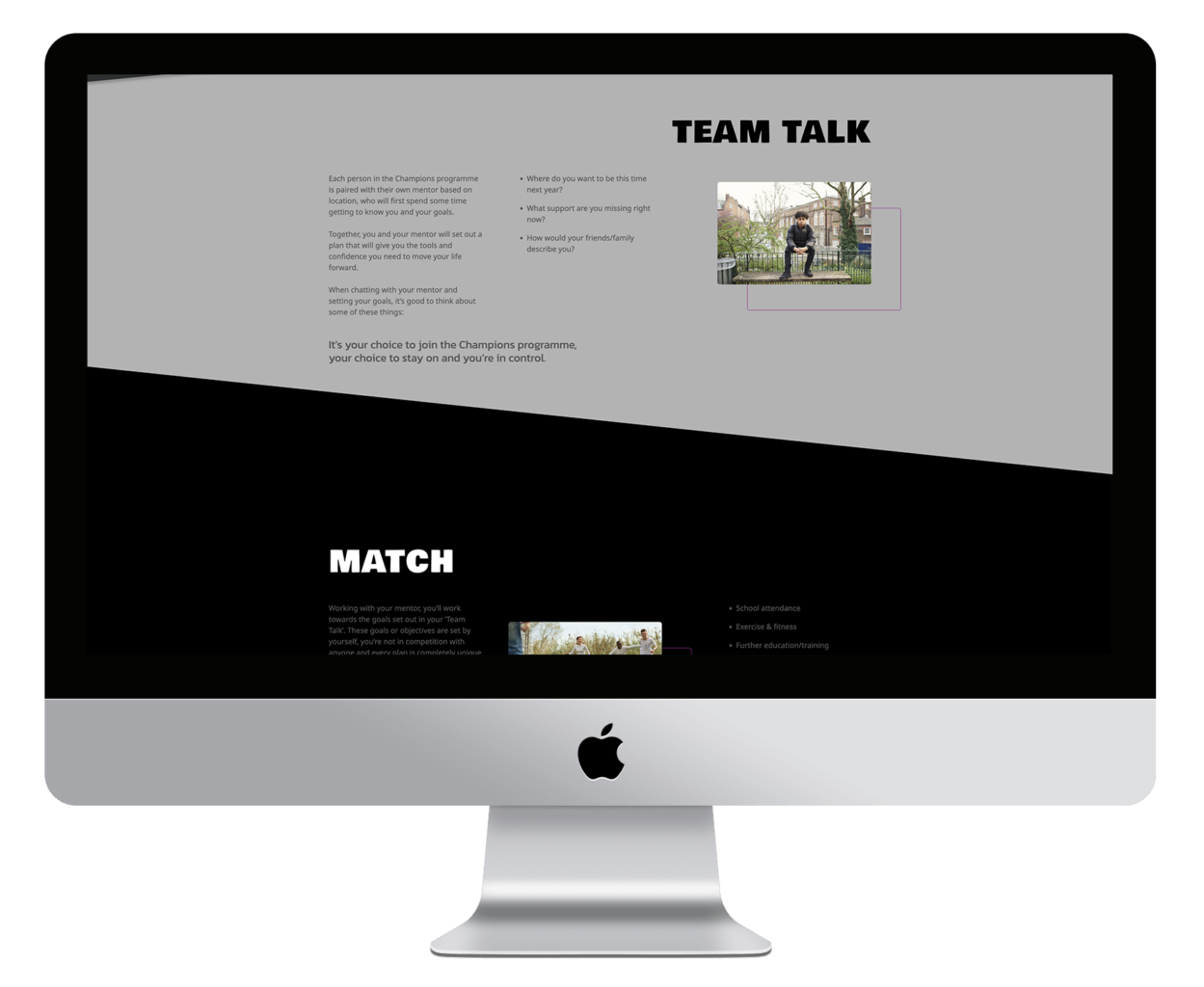 Secure Members Page: To safeguard privacy, we developed a secure members page accessible through individual logins. Here, participants can track their progress, earning valuable points as they complete outcomes. With a seamless backend integration, the mentors have the ability to add points to members' accounts as they achieve milestones.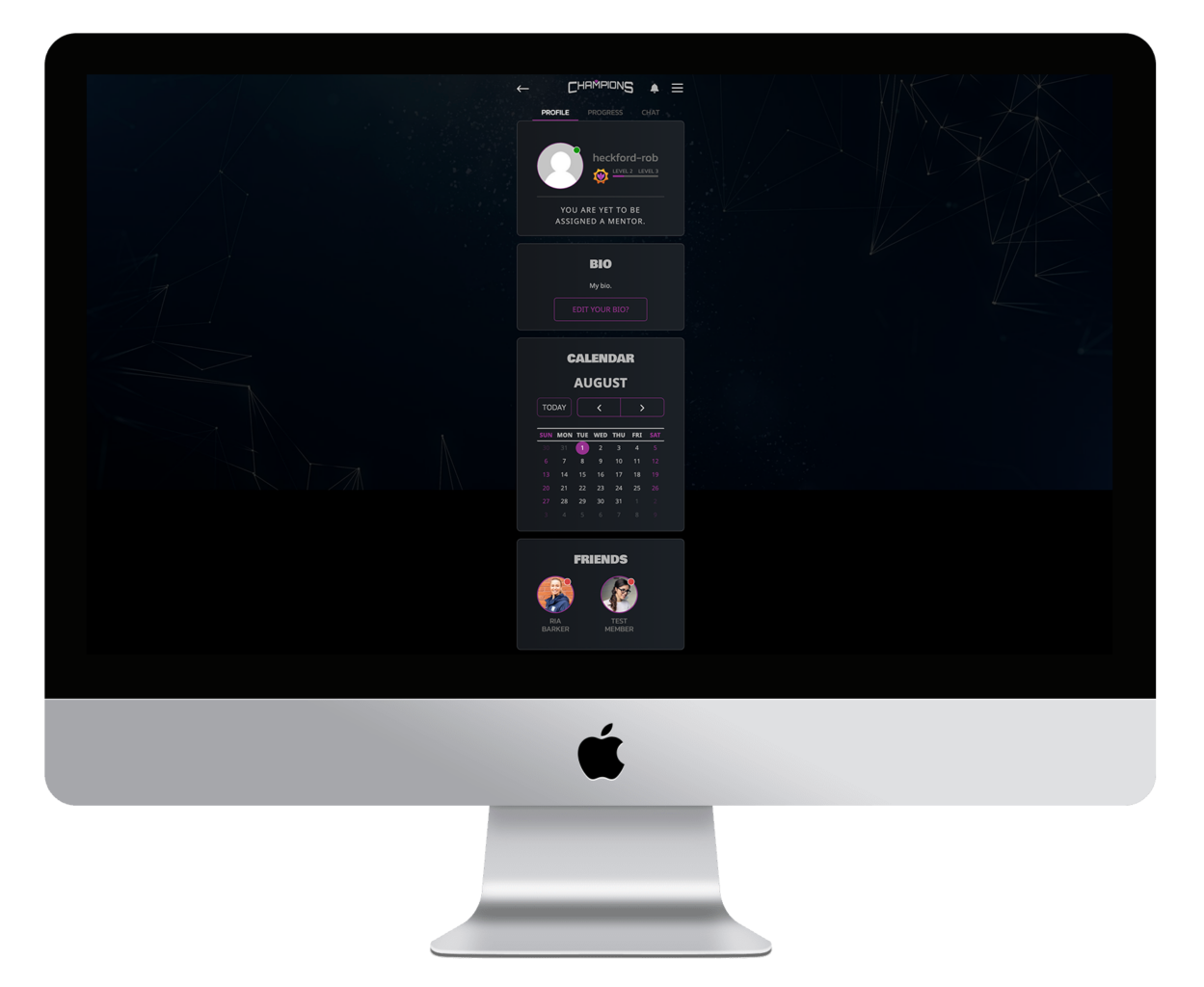 Partnership and Achievements: For formal communication with partners and stakeholders, we created a dedicated page outlining the programme's objectives, achievements, and ongoing impact. The language was tailored to resonate with these specific audiences, showcasing the significance of their support.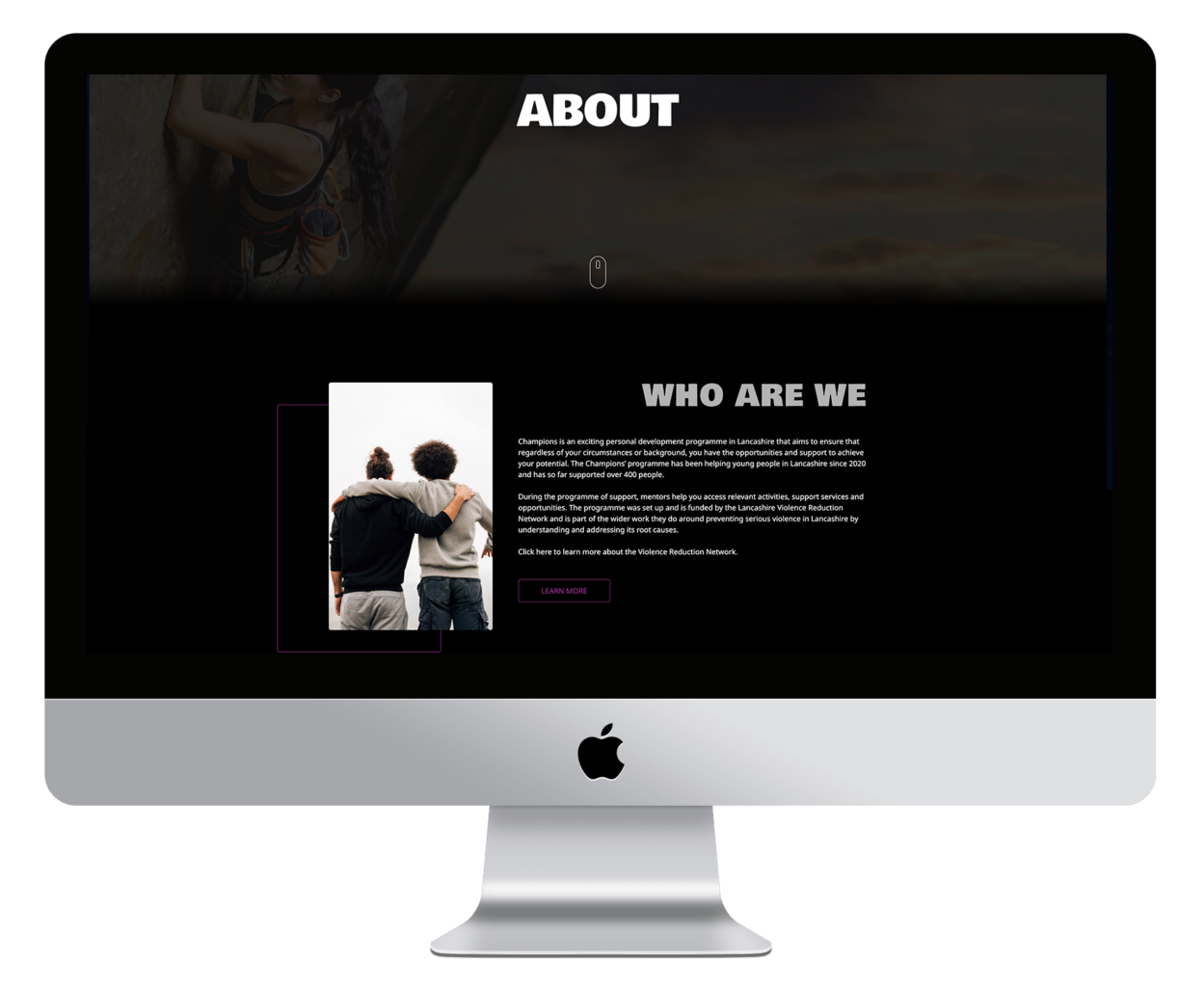 Meet the Mentors: Highlighting the key individuals behind the Champions programme, we designed an engaging 'Meet the Mentors' page. Detailed and captivating bios of approximately 18 mentors provided insights into their commitment and expertise.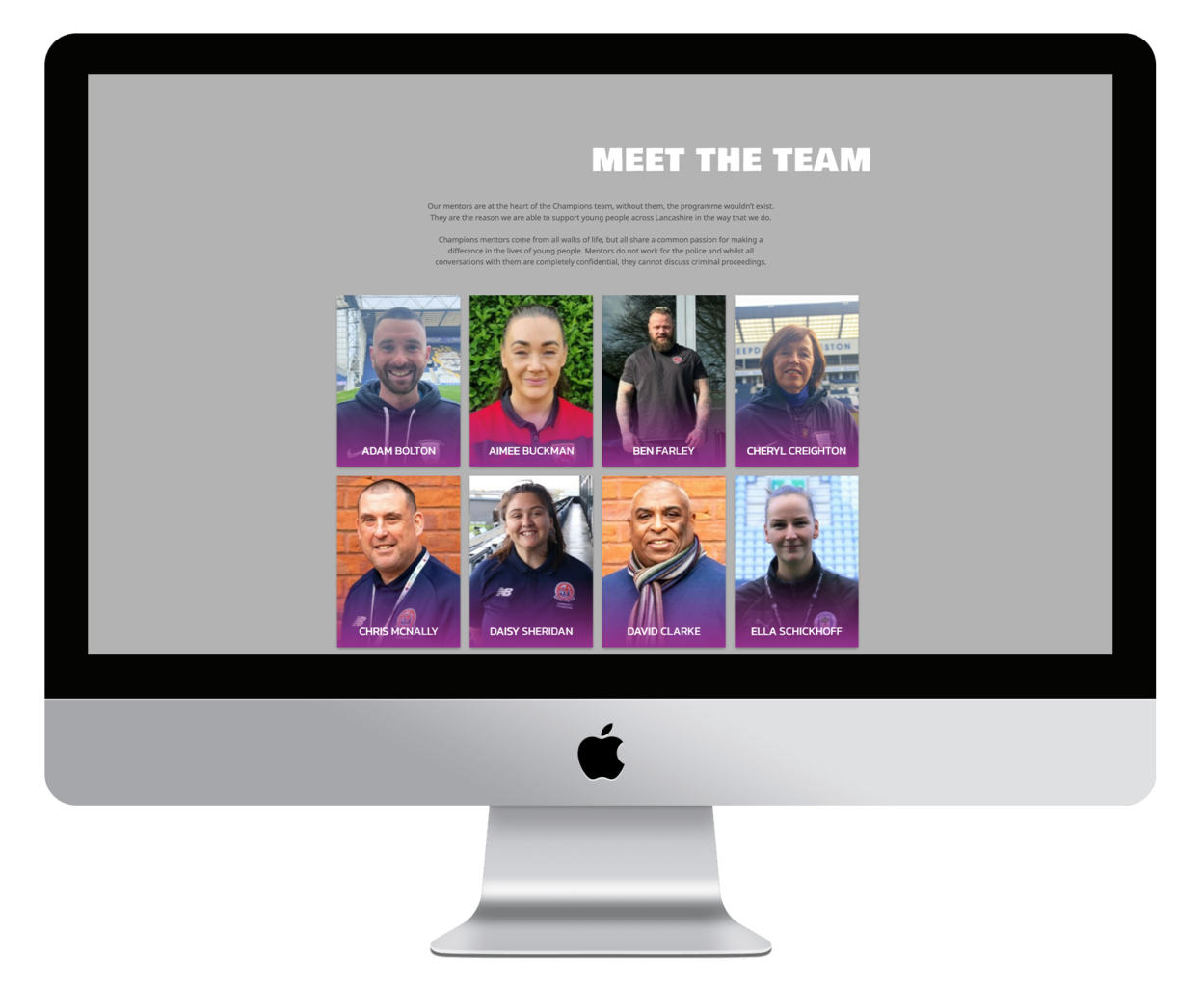 Community Directory and Events: To foster community engagement, we developed a comprehensive directory page, showcasing local clubs and activities such as boxing clubs, swimming groups, and more. This interactive directory helps participants search, explore and connect with various opportunities in their area.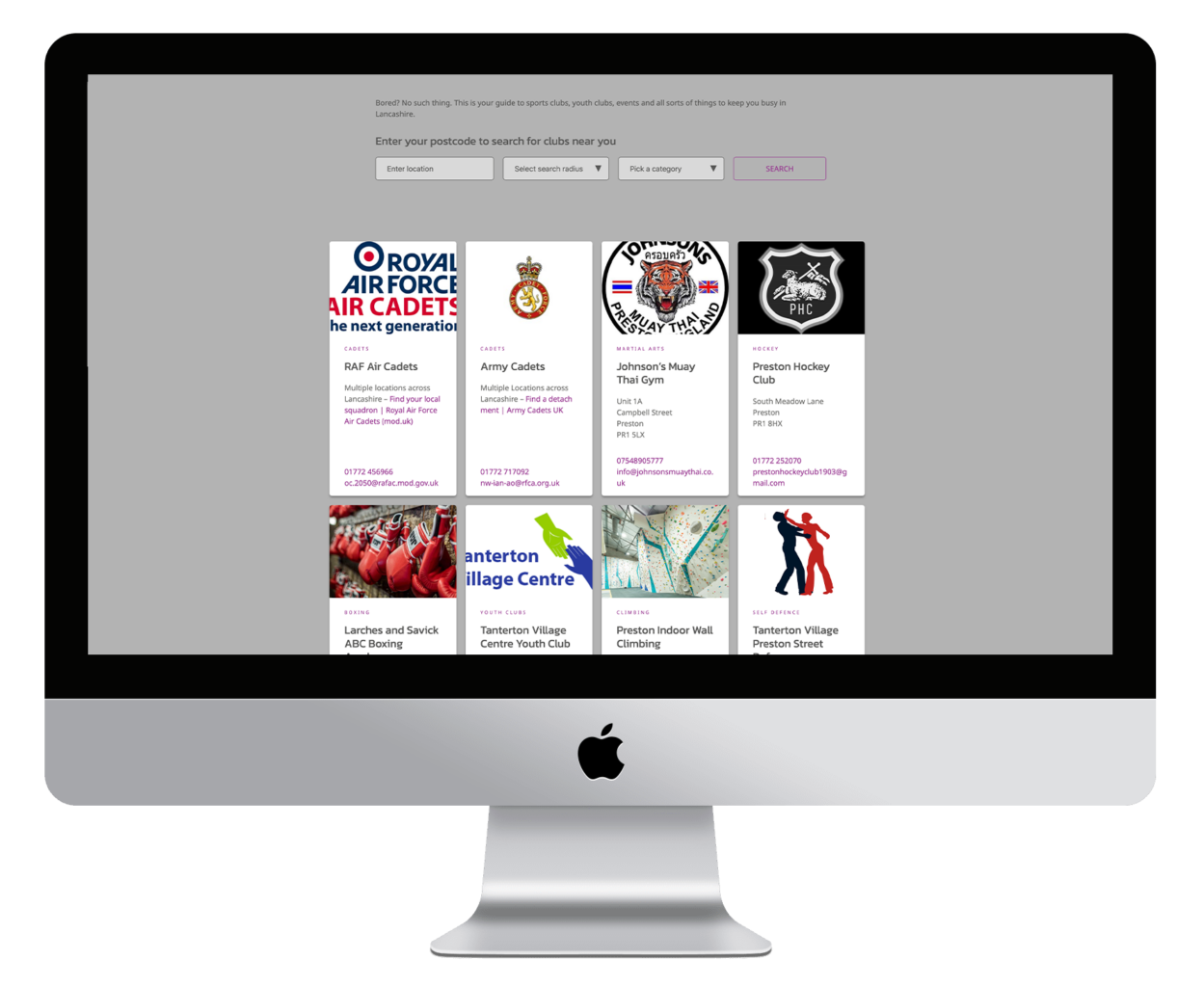 Dynamic Blog/News Section: A dynamic blog/news section was integrated, allowing the client to effortlessly update content. This feature enables the Champions programme to share success stories, relevant news, and exciting updates with its audience regularly.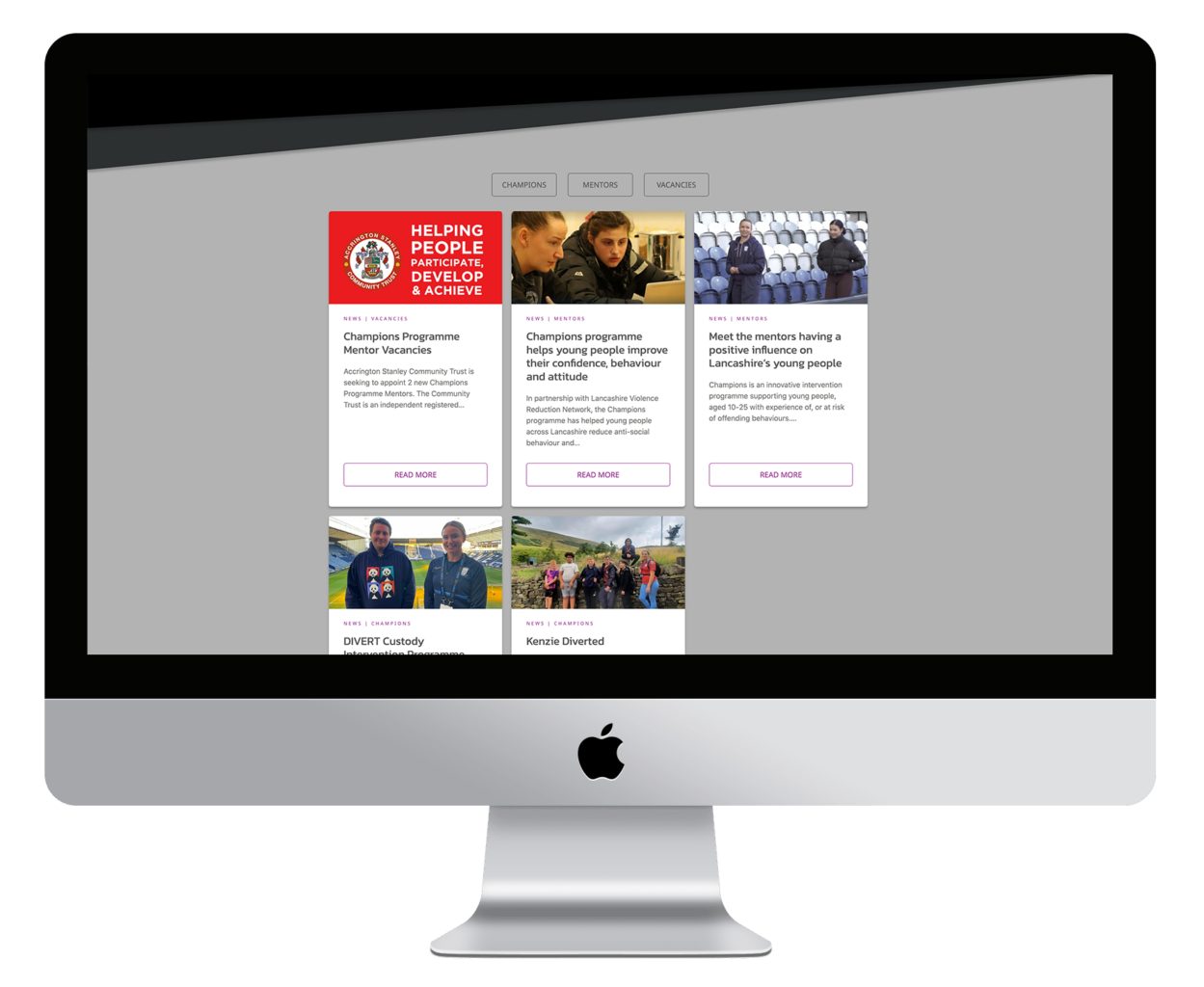 The results
The collaborative effort between the Lancashire Violence Reduction Network and ourselves resulted in a client-focused website that successfully supports the Champions programme. With a secure members page, engaging content, and an easily maintainable platform, the website effectively fosters mentorship, youth development, and community engagement. By blending captivating design and language, we ensured the website truly speaks the language of its audience, driving positive change and empowering the youth of Lancashire to become true champions of their own future.
Dave Oldfield discusses the Champions initiative and rebrand
Client testimonial
It has been almost like a little family approach where we have everyone working together to try and change people's lives. That has been due to rebrand with Heckford and we hadn't worked together in the way we did, I doubt we would have got to the point where we are now.

Dave Oldfield | Lancashire Violence Reduction Network Operational Lead