At Heckford we have recently rolled out a revamped booking system for one of our long-standing clients, Watermouth Castle & Theme Park based near Ilfracombe in Devon. As the country progresses through the Government roadmap for easing COVID restrictions, Watermouth Castle approached Heckford prior to the May stage of easing restrictions with the requirement to manage daily numbers visiting the park and castle grounds.
Bringing improvements
The current Watermouth Castle website was built by Heckford previously and already deployed the popular eCommerce plugin of WooCommerce to enable users to purchase tickets online. The requirement was to impose a daily limit on the number of tickets available and for visitors to specify a date and time for their visit defined in 30 minute slots. Additionality, each slot also shows the number of tickets left available.
Since the new booking system was launched in mid May the website has generated over 1,200 ticket sales each with a specific day and time for visiting.
The process merely added on the date and time requirements to the existing process for purchasing a ticket whilst keeping the user experience as simple as possible.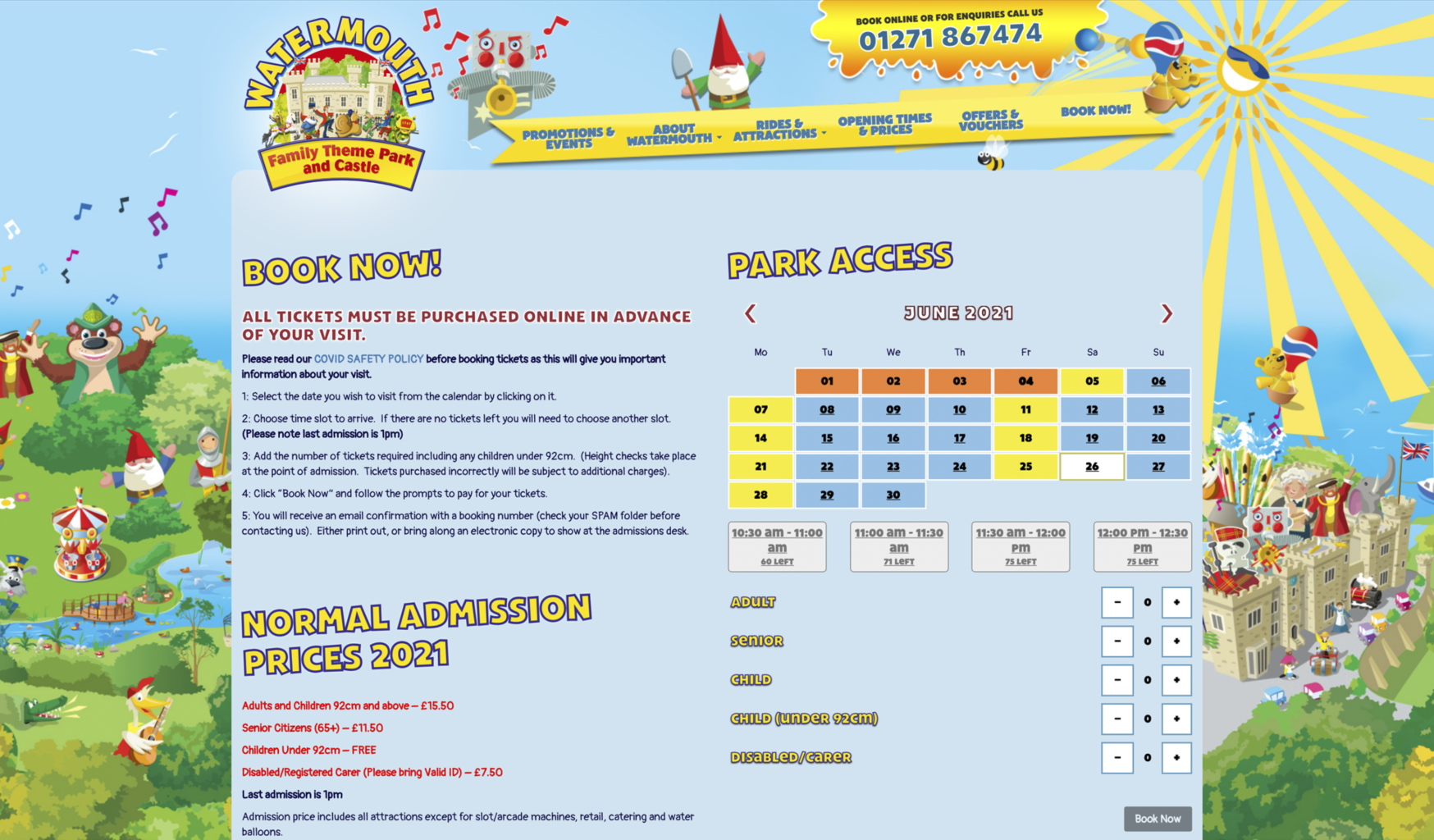 Easy booking management
The opening times calendar was upgraded to include the selection of the dates and times whilst maintaining the colour coding showing the daily opening and closing times of the park and castle grounds.
Additionally, there was also the requirement to make it as easy and as straightforward as possible for the management at Watermouth Castle to see how many visitors were to be expected at any point of the day so to aid managing the entry and exit of visitors at the gate whilst adhering to social distancing and other COVID guidance.
The park and castle grounds reopened on 17th May 2021 and thus far the website has generated over 1,200 ticket sales each with a specific day and time for visiting.
Need a new online booking system?
If your business or organisation wants to make that first step in creating a more effective online booking system we would love to hear from you.
Contact us now – ian.b@heckford-advertising.co.uk