We helped Marcolin Group UK make an impact at 100% Optical 2022 as we were tasked with designing and building a creative exhibition stand for the leading worldwide company in the eyewear industry.
The 100% Optical exhibition is a premier eyewear and eyecare event that showcases the latest innovations, products, and technologies in the optical industry. Held annually, the event brings together optometrists, opticians, ophthalmologists, eyewear designers, manufacturers, and other eyecare professionals from around the world.
Marcolin Group UK had particular needs for this event, and the customer desired interactive elements to entice visitors.
For Marcolin UK and ourselves, the show and the stand were big successes. Our stand design won the 'best space only for stand' award from the exhibition organisers.
The masses were drawn in by our exhibit designs and interactive features to interact with their personnel, watch the presentations, and take part in entertaining activities.
The teams from Marcolin UK were able to share their knowledge, highlight their brands, and draw attention to their distinctive goods and services in a variety of other ways through the use of the stand.
Marcolin UK were able to enjoy the event without having to worry about any part of their display stands thanks to our meticulous project planning. To make sure everything operated smoothly, we took care of the hardware, software, digital content, and programming on both stands.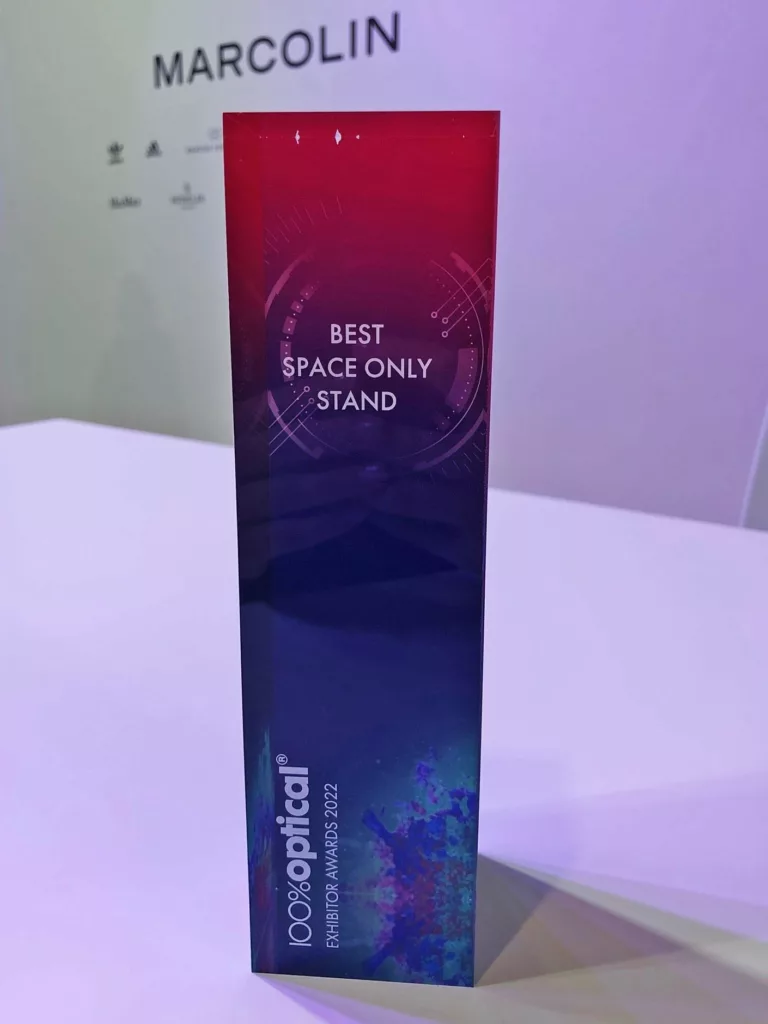 From pre-build and installation through on-site support during the event and takedown, we took care of everything. The Marcolin teams only needed to show up, take part in the event, and interact with the guests.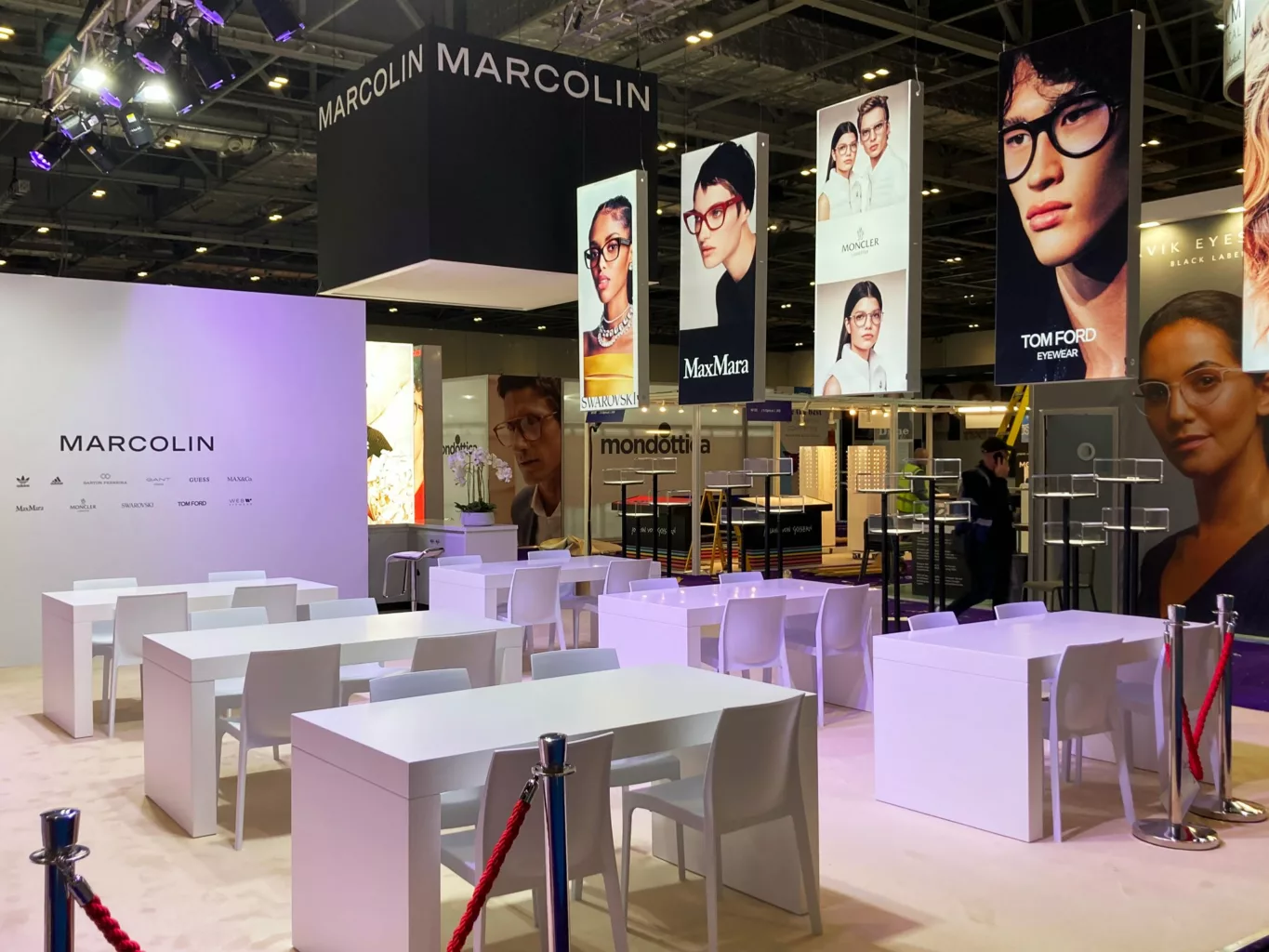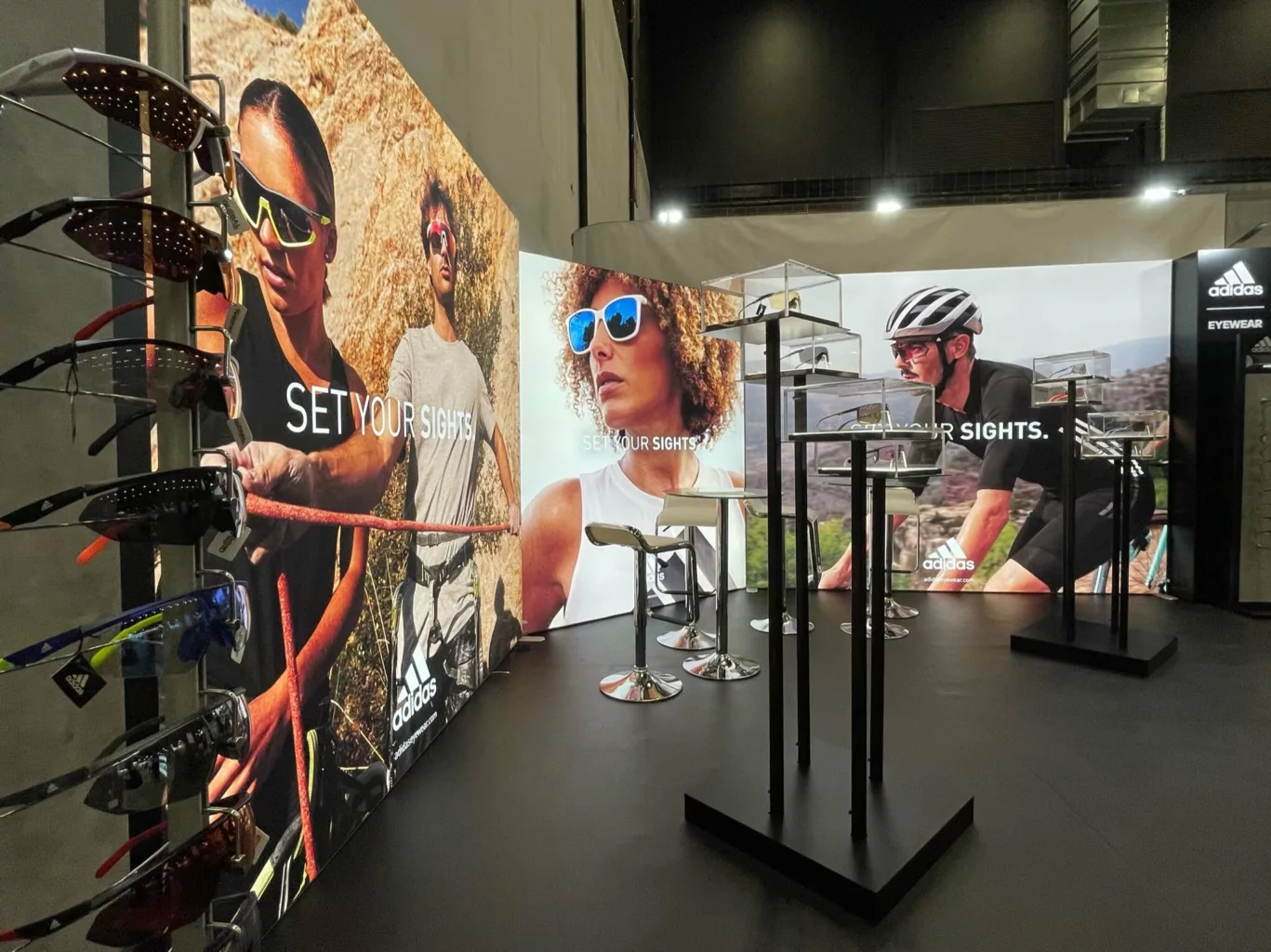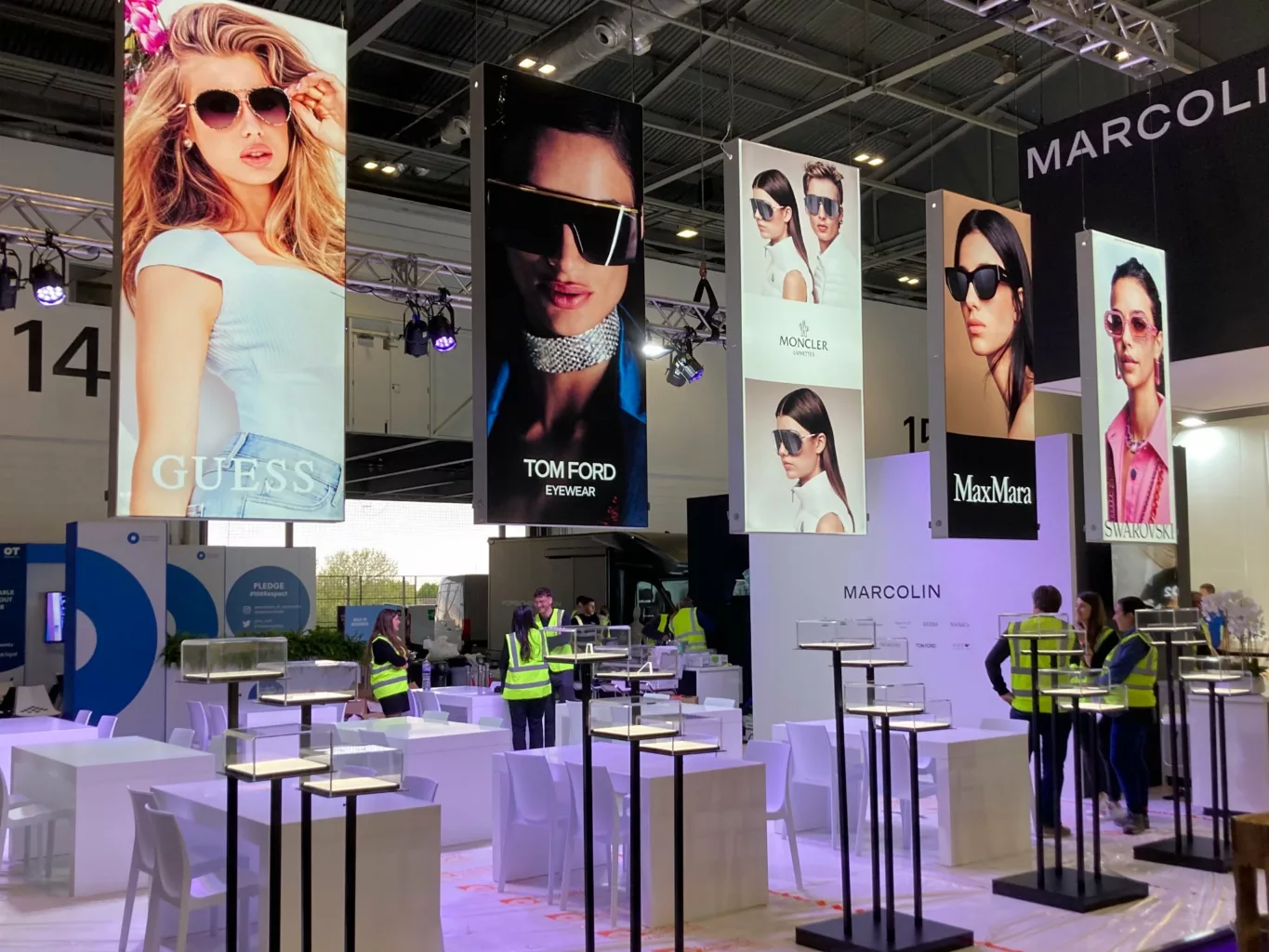 We've been incredibly busy from 9 am to past close, and had queues on Saturday and Sunday waiting to come on the stand. This feels like one of the European shows, it has such a buzz – we'll be back next year.

Michelle Fazzini, Sales Director at Marcolin
A step-by-step guide to producing award-winning exhibition stands
Here are some steps to increase your chances of winning awards for your exhibition stands:
Examine the Awards: Before entering an exhibition, investigate the prizes offered for exhibition booths and stands at that particular event. Learn about the standards for award winners, such as originality in design, branding, and interaction.
Define Your Goals: Specify your goals for the exhibition stand. What do you hope to accomplish? Is it intended to highlight a new product, produce leads, or increase brand recognition? Knowing your goals will enable you to adjust the strategy and design of your display stand.
Plan Your Exhibition Display: Consider the criteria for winning awards when you create your exhibition display. Layout, aesthetic impact, branding, lighting, graphics, interactive components, and visitor interaction are a few things to think about. To make a stand that stands out from the competitors, use your imagination and think creatively.
Pay Attention to Details: Winning prizes can be greatly influenced by attention to detail. Make sure your exhibition stand is well-built, eye-catching, and consistent with your corporate identity. Make use of premium paper, graphics, and signage. Throughout the exhibition, make sure everything is in its proper location, and the stand is kept tidy and maintained.
Engage with Visitors: At exhibitions, it's not just about how your stand looks on the outside; it's also about interacting with the public. Teach your stand personnel how to interact with guests in a friendly, informed, and proactive manner. To lure customers to your stand and keep them interested, provide product demos, engaging activities, and individualized experiences.
Develop a captivating narrative about your company, its goods, or services, and incorporate it into the design of your display booth. Use graphics, pictures, and messaging that create a cogent story and emotionally engage visitors. This will help your exhibition display stand out from the competitors and become memorable.
Following the show, compare your performance to your goals to measure the results. Have your objectives been met? Track outcomes like leads produced, sales closed, and brand impressions. It can help your case for receiving awards if you achieve or surpass your goals.
Keep in mind that winning awards for exhibition stands is subjective and depends on the event's competition and judging standards. To maximise your chances of winning prizes at exhibitions, it is crucial to carefully investigate the awards and criteria, plan your exhibition stand with attention to detail, interact with visitors, and measure your outcomes.