Winfields Outdoors
Winfields Outdoors cater for excellent outdoor products such as tents, camping gear, footwear and waterproof clothing.
Heckford provide a range of services for the company to help increase brand awareness and seasonal promotions across their eight stores in Barrow, Chester, Feckenham, Garforth, Haslingden, Hull, Keswick and Measham.
Our services to Winfields Outdoors
Creative Design and Print
Local, National and Trade Press Advertising
Internal Signage
External Signage
Outdoor Advertising
Direct Mail
Point of Sale
Radio Advertising
TV Advertising
Cinema Advertising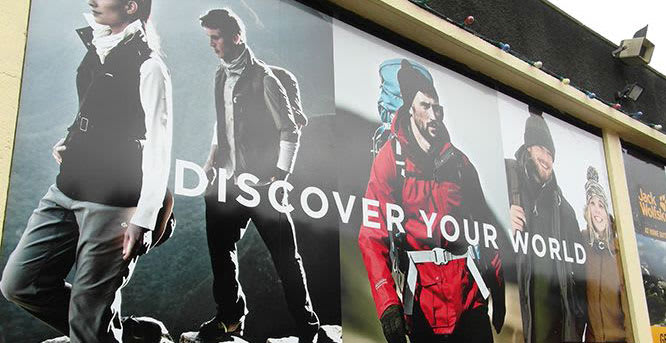 Design and Print
From single page mail drops to complete product brochures, Heckford have designed and printed a huge range of promotional and direct mail projects for Winfields Outdoors.
Signage & POS
Heckford have been responsible for creating numerous types of signage for Winfields Outdoors, from swing boards to an entire shop front.
Amongst these projects, was the construction of a 35m x 2m stand-off acrylic lettering and twelve huge 5m x 3m window cover graphics. The finished project, along with the addition of new in-store signage and entrance flags, has added dramatic colour to the exterior look of the Winfields Store.
Advertising
From January Sales to Black Friday Deals, Heckford continue to create effective advertising campaigns for Winfields Outdoors across a wide range of different media.
Local or national press and magazine bookings to 48 sheet billboards or mobile bus fleet adverts. We also produce radio, TV and cinema advertising whilst our specialist media booking department always ensure the most competitive rates.
Local, National and Trade Press Advertising
TV, Cinema and Radio Advertising
LET'S WORK TOGETHER…
Get in touch to discuss your next project